CLERANCE CANNON DAM
&
MARK TWAIN LAKE
CLEARANCE CANNON DAM WAS FIRST PROPOSED IN 1937 AS AN ANWSER TO MANY YEARS OF FLOODING BY THE SALT RIVER. WITH SUPPORT AND EXPERTISE OF MANY, INCLUDING CLARENCE CANNON, THE MULTI PURPOSE PROJECT WAS AUTHORIZED BY CONGRESS IN THE FLOOD CONTROL ACT OF 1962. THE CLERANCE CANNON DAM OFFERS MULTIPLE BENFITS TO NORTHEAST MISSOURI. THINGS LIKE HYDROELECTRIC POWER, FLOOD DAMAGE REDUCTION, FISH AND WILDLIFE CONSERVATION AND A WATER SUPPLY TO THE MANY RESIDENTS WHO LIVE IN THE AREA.
THE 18,600 ACRE LAKE IS SURROUNDED BY 55,000 ACRES OF CORPS. OWNED GROUND SET ASIDE FOR WILDLIFE CONVERSATION AND PUBLIC HUNTING GROUNDS. AS WELL AS SEVERAL TOURIST DRAWLS LIKE SAMUEL CLEMENS'S (MARK TWAIN) BOYHOOD HOME, TO A BRAND NEW, STATE OF THE ART TOURISM CENTER OVER LOOKING THE MAIN LAKE AREA NEAR THE DAM. WITH OVER 18,000 ACRES OF SURFACE WATER, 285 MILES OF SHORELINE AND AN AVERAGE DEPTH OF 29 FEET, MARK TWAIN LAKE IS HOME TO SOME OF THE BEST FISHING IN THE MIDWEST.
FROM GREAT FISHING AND FREE TO HUNT CORPS. GROUND COMES TOURISM AND TOURISM LEADS TO BUSINESS. THE MARK TWAIN LAKE AREA IS LOCATED IN RALLS AND MONROE COUNTIES AND IS HOME MANY GREAT BUSINESSES. HOTELS NESTLED AWAY IN THE WOODS, NEW AGE NIGHT CLUBS AND SEVERAL GOURMET RESTAURANTS ARE ALL HERE TO ACCOMMODATE YOUR STAY. TAKE A WALK DOWN PERRY'S MAIN STREET AND VISIT THE AREA ANTIQUE SHOPS, TAKE A RIDE DOWN THE LAKES'S SOUTH EDGE TO THE HISTORICAL COVERED BRIDGE OR A DAY TRIP TO THE NEARBY FAMOUS HANNIBAL, MISSOURI.
THE CALM SUMMER WATERS AND EXCELLENT FISHING IS IDEAL FOR A CALM RIDE AND SITE SEEING, SKIING, SOAKING UP SOME SUN OR CATCHING A LIMIT OF CRAPPIE. TWO ON LAKE MARINAS HAVE BOAT RENTALS AND WEEKEND SLIP RENTALS TO MAKE THE TRIP MORE STRESS FREE AND ENJOYABLE. MARK TWAIN LAKE IS THE PERFECT GET AWAY FOR THE FAMILY'S SUMMER VACATION OR A WEEKEND FISHING TRIP.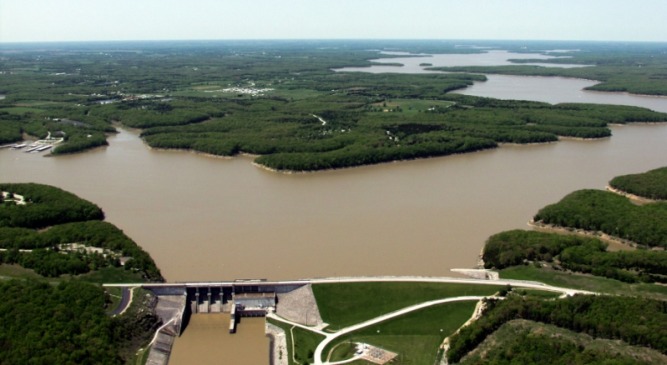 MARK TWAIN LAKE